Kudos to the Los Angeles Times for their exceptional coverage of California's four-year drought. One story, however, remains curiously untouched by the Times and every other damn newspaper in the state.
Did you know the State of California has erected an emergency barrier to keep salty San Francisco Bay water from entering the California Aqueduct?
Scary? You bet.
Should saltwater reach the aqueduct, the state would close the main water delivery system to Central and Southern California. The aqueduct delivers the vast majority of water to the vast majority of the state. Let me put a fine point on this: with the May shuttering of the Los Angeles Aqueduct, the City of Los Angeles relies on state water more than ever.
Ponder what would happen to California's economy (and health and reputation) should the California Aqueduct close.
What accounts for the news blackout on the emergency barrier? I don't know. Its construction is touted on the Department of Water Resources website. The state even made a video (viewed a paltry few hundred times.)
Perhaps the lack of attention is attributable to geography: the California Delta is hundreds of miles from Los Angeles. Or, perhaps, the emergency measure is too frightening a picture of California's future.
Climate change will certainly make matters worse. Sea level rise will send San Francisco Bay waters deeper into the Delta. Shifts in the Sierra snowpack will result in lower summer flows. Even in wet years we can anticipate lower summer flows.
As a remedy, Governor Brown wants to move the intake upriver – build tunnels to carry fresh water directly into the aqueduct. Some environmentalists don't like the project – but I've got to admit that there's a strong climate argument to be made for this solution.
But no matter what, Los Angeles can't be silent. This is a major change that directly impacts our city. We should be paying attention.
Jonathan Parfrey
As chair to the California Energy Commission since 2011, Robert B. Weisenmiller has helped lead the Golden State with energy innovations and polices to reduce greenhouse gases and fight climate change. Here, he answered our questions about his work and action on climate.
Describe your work.
I'm helping California reduce its energy costs and the environmental impacts of energy use, such as greenhouse gas emissions, while ensuring our supply of energy is safe, resilient and reliable.
What (or who) inspired you on your career path?
I was inspired by a couple of my college professors, Joe Cerny and John Holdren. Cerny taught me what it takes to be a successful scientist. Holdren helped me focus on the important issues of energy and the environment.
What are the key external factors that drive your work?
I really enjoy the challenge of communicating tough issues to the public and it's especially rewarding when we provide a solution. For example, the Energy Commission provides millions of dollars each year to encourage innovative research and development. Recently, a R&D project we funded produced a prototype of a new type of washing machine that doesn't use water at all; it cleans with liquid carbon dioxide. Now, the Energy Commission has awarded $900,000 to CO2Nexus to demonstrate its prototype to clean military uniforms and field gear such as Kevlar-ballistic vests, flame-resistant garments, sleeping bags and tents. At the height of the current drought, we are helping to bring a water-free cleaning method to market.
What kind of discoveries have you made?
In terms of energy policy, in the 1970s I helped Governor Edmund G. Brown Jr. develop his energy policies and we demonstrated to the world that through energy efficiency and renewable energy California could maintain its vibrant economy and do so with a more sustainable energy system. Economic incentives for the decoupling of utility earnings from production, avoided-cost pricing for cogeneration plants that provide electricity and useful heat at the same time, promoting renewable energy systems, redesigning rate structures and supporting solar tax credits sparked an energy revolution.
What are the barriers you face in your work?
It can be difficult to explain complex, scientific information in a way that gains public support. It is part of the challenge I so thoroughly enjoy, but presents a barrier when energy experts dive into the minutia of a technology and forget to frame the subject area in a way that explains how the technology can be helpful. An example of where I think we have successfully led this type of discussion is energy storage. There are many different technologies to consider from flywheels to molten salt batteries, each with technological challenges and strengths. Energy storage can literally be a game changer and it is important that we frame the issue in a way that applies to our daily lives. For instance, energy storage is important right now because we have reached the point where we have excess solar energy during the late day and need to find a way to store that excess energy to help us during the evening hours. Energy storage can help us use additional solar energy after the sun sets.
Name a significant, little-known fact the every Californian should know.
It is a simple concept that is often overlooked—conservation is the easiest and cheapest way to reduce greenhouse gas emissions. If we reduce the energy we use, we reduce the greenhouse gas emissions tied to that additional energy production.
A genie grants you wishes to fight climate change. What do you ask for?
I would first wish that my fellow neighbors on this planet would join California in the effort to combat climate change. They could join California by putting a price on carbon with a carbon tax or a cap-and-trade program and expand the approach our state has demonstrated. Alone California produces less than one percent of the world's greenhouse gas emissions, but with bold action we are taking tangible steps to reduce emissions which others could embrace to prevent the planet's temperature from continuing to rise. Second, I would wish that this planet-wide effort would be driven by an information network where we share knowledge and encouragement. I would say to each person that none of us alone can reverse global warming, but by taking action together we will have an extraordinary impact. That's why I'm excited about Governor Brown's leadership and the action California is taking to mitigate greenhouse gas emissions. Specifically, in anticipation of the Paris conference on climate change planned for November, I would wish for more states, provinces and governments to sign on to the "Under 2 MOU," the memorandum of understanding that aims to keep global warming at less than two degrees Celsius. Together, we can have a tremendous impact on the world around us to keep temperatures below the level considered harmful.
Are you hopeful or pessimistic? 
I'm optimistic. In the 1970s and '80s, I worked for the Energy Commission in a different role and was part of a statewide team that transformed our energy system from one of excessive energy production and nuclear power plants to one where efficiency has kept our energy demand essentially flat per capita while the rest of the nation's demand has grown by 50 percent. Now, I'm getting a second chance, but this time my experience is much richer and robust, and I'm excited about where we're going. Governor Brown has set three big goals for us: Increase from 1/3 to 50 percent our electricity from renewable sources; reduced petroleum use in cars by 50 percent; and double the efficiency of existing buildings. Those are bold goals. We've got a lot of work to do.
On November 8, 2016 — when America goes the poll to select the next President — voters in Los Angeles County will also get a chance to decide on a new transportation measure.
Climate Resolve sees this initiative as a magnificent opportunity to address climate change. After all, it is the transportation sector (e.g., cars burning gasoline) that is most culpable for California's carbon woes.
Fortuitously, investing in transportation yields magnificent returns. Getting people out of their cars results in less smog, healthier lungs, less congested freeways, and more dollars spent at home (and less money given to oil corporations and iffy countries). And, of course, better transit options can also reduce LA's greenhouse gas pollution.
As currently conceived, the sales tax measure could raise upwards of $120 billion over forty years. Just think how transformative that scale of investment in our transportation sector could be…
Inspired by Move LA, Climate Resolve is working with dozens of environmental groups to inform the initiative. We call our coalition EnviroMetro. And here's our first product.
Our policy document, brilliantly synthesized by NRDC's Fernando Cazares, suggests how we can win environmental outcomes while improving transportation. Eighteen groups have signed on, and more will join.
Let us know if you want to be involved in this transformative measure.
DECARBONIZING CALIFORNIA
Updates on climate news in Los Angeles and California
For the first time since 1953, rail is rolling through Santa Monica again! (Curbed)
Bike commuting is on the rise in LA – but it can still be a challenge. How can we encourage this healthy (for yourself and the planet) mode of transit? (KPCC) How you can celebrate biking right here in LA next weekend: CicLAvia! This Culver City-Venice route is so jam-packed with fun things to do, you should probably start planning now (Metro).
CityLab details an electric car share program specifically designed for low-income families.
California water use decreased more than mandated in June – now, we just have to keep it up (LA Times). You can find out how you're doing here.
(Angelenos: local climate events & jobs here)
BEYOND THE GOLDEN STATE
National and international climate news
The "stars are aligning" for the Paris climate talks. (The Independent)
Another climate change and health connection: there's a boom in tick populations. (The Guardian)
HOORAH FOR SCIENCE
Breakthroughs and advances worth celebrating
Those Google street-view cars with cameras have another purpose: tracking air pollution. (NPR)
TAKE ACTION
Do Something
Share how you feel about transportation in LA by taking the Move LA transportation survey.
HEAR YE
Words Worth Repeating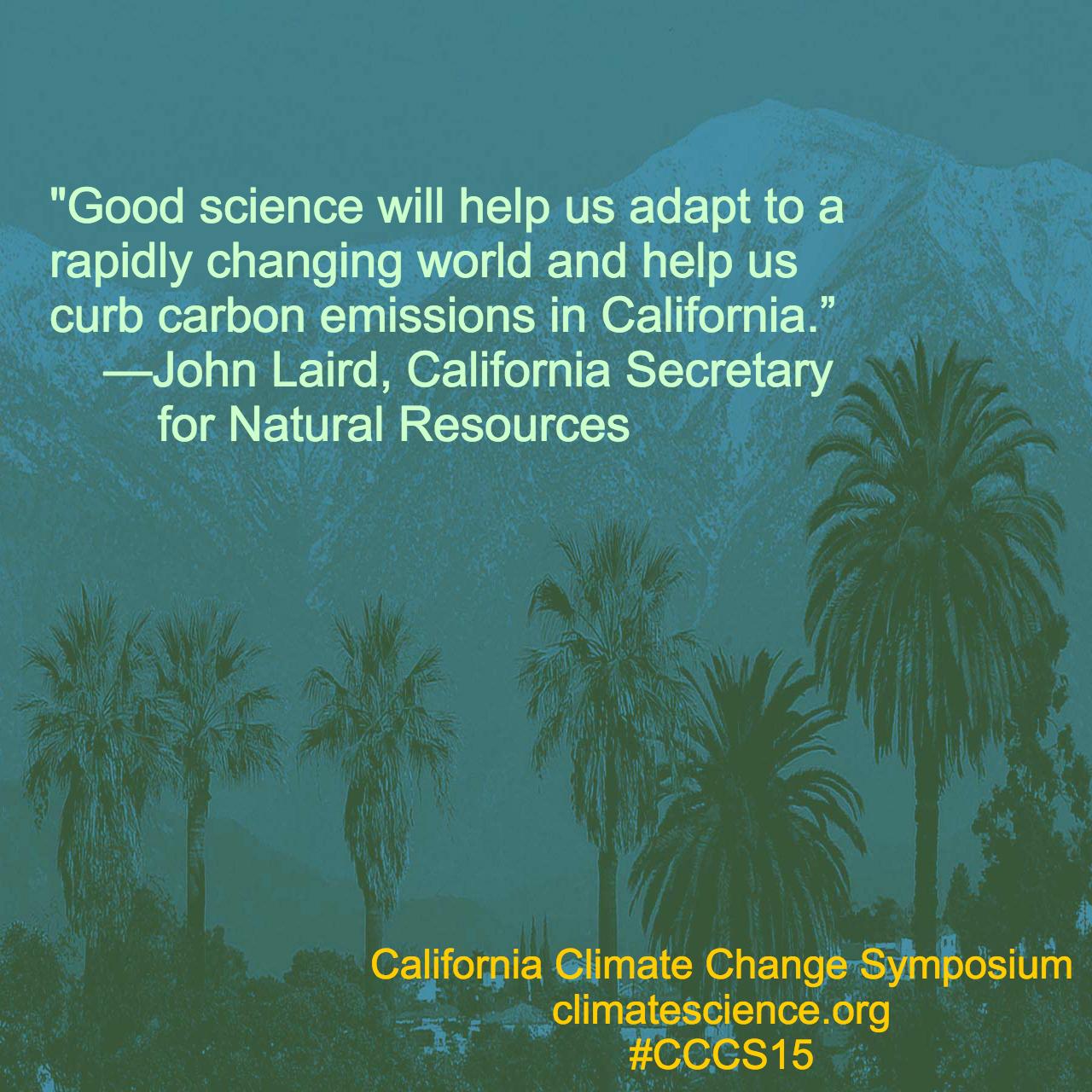 You can't be neutral on this: listen to a scientist explain his emotional reaction to the climate crisis. (Yale Climate Connection)
LOOK HERE
Images, videos, and infographics that deserve a close look
What she said:
WEEKEND READING
Online posts, longreads and book suggestions
This editorial demonstrates that the power of Big Oil is not to be underestimated – and that we have to fight back. (La Opinion)
1

...