Climate Events
July 25 | Paint Day | US Green Building Council
July 28 | Get Charged
July 29 | CalTech Water Conservation
July 30 | Sea Jellies | Aquarium of the Pacific
July 31-August 2 | Hack for Humanity: Water
August 1 | Grand Opening of Patton Street Park and Garden
August 9 | CicLAvia: Culver City Meets Venice
August 15 | West Basin Town Hall
August 19-20 | ReLeaf Network Leadership Workshop
August 21 | Zero Net Energy Building Conference
August 26 | Women in Green Forum
Climate Jobs
Heal the Bay | Water Resources Policy Analyst
The Wonderful Company | Foundation Program Intern
TreePeople | Policy Coordinator | Tree Care Manager
Zócalo Public Square | Director of Finance & Operations
USC Center on Philanthropy and Public Policy | Events Manager/Development Associate
City Parks Alliance | Project Analyst II/Project Manager
Consumers Union | Senior Communications Associate, Energy Policy
Los Angeles Waterkeeper | Executive Director
The Nature Conservancy | Energy Associate Project Director
LA Cleantech Incubator | Analyst
DECARBONIZING CALIFORNIA
Updates on climate news in Los Angeles and California
It's been a big week for Metro. Our favorite rail line turned 25, and celebrated its birthday by testing out Expo Line trains near the beach in Santa Monica (SCPR). In honor of these exciting events, watch Metro lines grow and grow and grow (Curbed).
The UCLA practicum report on Santa Monica's greenhouse gas emission is here! Dense, but worth a read to see how the region's cities implementing climate adaptation (UCLA).
Mayor Garcetti was on MSNBC to talk about LA's drought-prevention measures. In other water news, the California Water Commission is limiting the amount of lawn on new properties  (Los Angeles Times) and Governor Brown signed a bill prohibiting fines for those with brown lawns.
BEYOND THE GOLDEN STATE
National and international climate news
In advance of the Paris talks, the global eye turns to cities as climate leaders (Huffington Post).
Cutting carbon pollution is good for the economy, as the success of the Northeast's cap & trade program makes abundantly clear (Grist).
Another connection between climate change and public health: greenhouse gas emissions will likely impact nutrition by the middle of the century. (Washington Post) Also: A study says wildfire smoke may increase the risk of heart disease (Climate Progress).
97 percent of climate scientists agree that humans are contributing to global warming? No, it's actually 99 percent (Yahoo).
HOORAH FOR SCIENCE
Breakthroughs and advances worth celebrating
From water suck to energy powerhouse? A Japanese tech company is turning golf courses into solar energy farms. (Christian Science Monitor)
NASA released a study in the Journal of Climate on the use of satellites to track the Earth's water movements.
TAKE ACTION
Do Something
Small choices go a long way for the planet—so try to green your grocery-shopping routine! (Yale Climate Connection)
HEAR YE
Words Worth Repeating
"No matter your beliefs or political views, we are all compelled to act on climate change to protect our health, our planet, and our fellow human beings."—EPA's Gina McCarthy
WEEKEND READING
Online posts, longreads and book suggestions
Read up on this past spring's National Adaptation Forum sessions. This is a great way to learn about the forefront of climate adaptation, and what researchers and policy makers are planning.
The Bicycle and the Ride to Modern America (New York Times).
Timeline of California's water history (Modesto Bee).
California Can't Let Up On Climate Change, op-ed in the Sacramento Bee.
LOOK HERE
Images, videos, and infographics that deserve a close look
Move LA's transportation conversation is now online. If you care about the future of transit in Los Angeles, it's worth a look:
Our #climatephoto of the week shows a mountain village in India which has gone #solar http://t.co/4nkCypqPTg pic.twitter.com/QJc9hpk2Xa

— UN Climate Action (@UNFCCC) July 12, 2015
DECARBONIZING CALIFORNIA
Updates on climate news in Los Angeles and California
Governor Brown just announced a talk on climate change with the Pope. (Sacramento Bee) Meanwhile, Rabbi Zoe Klein writes about how you don't have to be Catholic to see that the Pope's stance on climate change is good for the planet (Los Angeles Daily News). And: the Dalai Lama was at UC Irvine with a panel of experts to discuss climate change.
LAWP is rolling out new increased rates to help upgrade infrastructure and implement conservation measures. (KPCC). This is a necessary measure, and will help LA better adapt in our current drought and beyond. (Full response from our Jonathan Parfrey.)
BEYOND THE GOLDEN STATE
National and international climate news
Community solar gardens are on the rise in 2015 (Climate Progress), with help from President Obama (Washington Post).
HOORAH FOR SCIENCE
Breakthroughs and advances worth celebrating
It's Nikola Tesla's birthday this week! The notoriously eccentric and undeniably brilliant scientist and inventor should be known for his contributions to research in electricity, in addition to the namesake for the world's sassiest electric car.
TAKE ACTION
Do Something
Take a bike safety class with Metro, offered all across LA this weekend, and start rolling carbon-neutral.
If you're a scientist or researcher, submit to be a poster presenter at the California Climate Change Symposium.
Conserve water with this helpful infographic.
HEAR YE
Words Worth Repeating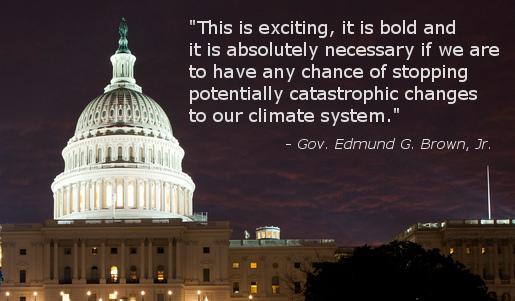 Above, Governor Jerry Brown discussing petroleum reduction goals (Air Resources Board).
WEEKEND READING
Online posts, longreads and book suggestions
"When the End of Civilization is Your Day Job" about climate scientists (Esquire). Also: a Slate response.
LOOK HERE
Images, videos, and infographics that deserve a close look
Amazing images of Earth from a Japanese satellite. (NY Times):
A living portrait of the Earth, courtesy of the Himawari-8 weather satellite http://t.co/8gmwakUWH2 pic.twitter.com/Ln1vz1FCIZ

— The New York Times (@nytimes) July 10, 2015
So great to see the City of Los Angeles Department of Public Works Bureau of Street Services using cool surfaces to cool LA:
Could light colored pavement reduce Heat Island Effect? We are working with @ClimateResolve @jparfrey to find out! pic.twitter.com/YuSK3Simmc

— LA Street Services (@BSSLosAngeles) July 7, 2015
Our reaction to the proposed rate increase by LADWP? Simple: Supporting the rate increase is the adult thing to do.
LADWP has crafted a responsible plan to fix aging infrastructure and meet federal and state obligations. We can't fix our aging infrastructure without paying for it—and it's irresponsible to think we can continue on business-as-usual while California faces a historic drought. With the investments in water and energy, Angelenos will be part of the solution. To prepare for the future, we need to conserve more water, eliminate coal from our portfolio and create an energy-smart city.
We should view the new rates as an opportunity as well: those who conserve the most will be the most rewarded with lower rates.—Jonathan Parfrey
For Climate Resolve, Independence Day is on July 1 this year. That's because today is the day we officially become our own independent 501(c)(3) organization!
Wait, you might ask—hasn't Climate Resolve been a nonprofit this whole time, with its own staff, board of directors, goals, and projects? Yes, but we have also been fiscally sponsored by Community Partners, who managed the behind-the-scenes matters for us (accounting, HR…). Basically, they took care of everything that wasn't part of our program, while we focused on Climate Resolve's mission.
We're so grateful to Community Partners for all of the support they have given us for the past four years. Climate Resolve as it exists today would not have been possible without them. And we're also looking forward to what the future will hold for us as we forge out on our own. We already have big plans, and we can't wait to share them with you!
We got this cake…and @ClimateResolve became its own 501(c)3 official nonprofit! Congrats! We ♥ you too pic.twitter.com/Exbwri1yDb

— Community Partners (@CommunityPrtnrs) July 1, 2015
1

...