October 2 | Know Tomorrow | Claremont College
October 10 | California 2030: Local Actions for a Global Impact | UCLA
October 14 | Short-Lived Climate Pollutant Strategy Workshop | California Air Resources Board | Diamond Bar
October 14 | Sustainable LA/Data Cosmopolis | UCLA
October 14 | Earth to Sky Regional Course (Alaska)
October 15 | Shaping the Future: Automotive Design | Young Professionals in Energy
October 15-18 | North American Association for Environmental Education Conference

October 16 | California State Senate Environmental Quality Committee Regional Hearing (Los Angeles)
October 18-20 | UCLA Lake Arrowhead Symposium
October 21 | AdaptLA Workshop: Initial Coastal Storms Modeling Results | USC SeaGrant
October 21-22 | Cleantech Global Showcase | LA Cleantech Incubator
October 23 | Mayoral Housing, Transportation, and Jobs Summit | LA Business Council | UCLA
October 25-28 | California Bicycle Summit
October 28 | Science and Policy of Climate Change: Mario Molina | UC Irvine
Climate Jobs
LA2050 | Executive Director
DSO | Government Relations & Community Relations
Point Blue | Coastal Adaptation Project Leader
ICF | Junior Climate Change Consultant
LAANE | Repower LA Researcher
TreePeople | CEO
Union of Concerned Scientists (Oakland) | Western States Campaign Manager | Western States Outreach Coordinator
California League of Conservation Voters | Political Director
CivicSpark | Climate Fellow
DECARBONIZING CALIFORNIA
Updates on climate news in Los Angeles and California
More evidence linking climate and health: A newly-released study shows that decreasing emissions in California has had a positive effect on air quality and respiratory health. (California Air Resources Board)
The California Air Resources Board re-adopted the Golden State's groundbreaking Low Carbon Fuels Standard. (California Delivers)
The Planning Report interviews Southern California transit guru Richard Katz on the potential for a new transportation funding measure in Los Angeles.
(Angelenos: local climate events & jobs here)
BEYOND THE GOLDEN STATE
National and international climate news
RT @BarackObama: Watch @Pontifex say why it's so important for everyone to come together to #ActOnClimate. #PopeInDC http://t.co/wFMjbIOKE0

— Climate Resolve (@ClimateResolve) September 24, 2015
Pope Francis began his visit to the U.S. this week with the very first Papal address to Congress. He took some time to reinforce his strong climate message. Republicans are still refusing to take the issue seriously. (Salon)
A climate cover-up like no other: Internal memos were uncovered that make it clear that Exxon was perfectly aware of the impacts of global warming in 1982. (Inside Climate News)
China has announced it would be introducing a cap-and-trade program to limit emissions. (NY Times)
SCIENCE
Breakthroughs, advances, and new research
Doesn't it seem like there's some amazing new climate technology coming out of the Netherlands every week? This time, it's a tower that sucks smog out of the air. (Grist)
Learn how the Renaissance Hotel in downtown Phoenix uses sustainable architecture instead of air conditioning to stay cool during its hottest months. (AXS)
Take Action
Get out there and make a difference!
The Los Angeles's Green Festival Expo is going on this weekend at the Convention Center. You can support local sustainable businesses, learn about the latest green products, listen to speakers talk about living a sustainable and healthy lifestyle, and indulge in vegetarian/vegan food.
This is the last week to attend Metro's bike safety classes. (The Source)
If you missed last week's Bike & Pedestrian Count, there are a few makeup shifts next week. (LACBC)
HEAR YE
Words Worth Repeating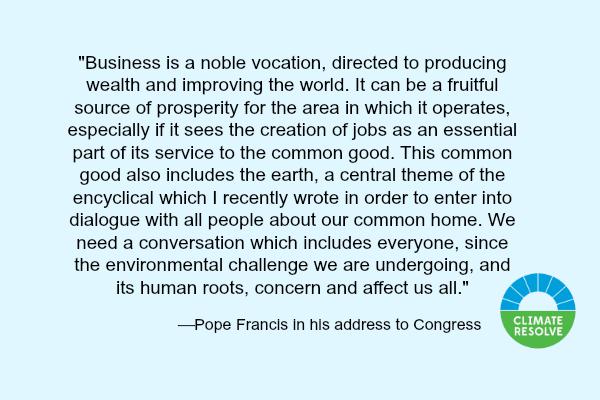 LOOK HERE
Images, videos, and infographics that deserve a close look
The Belgian city of Ghent turned some of its streets into parks this summer — with beautiful, inspiring results. (Co.Exist)
Do you know where your politicians stand on climate change? This chart breaks down presidential candidates' stand on many climatic issues. (NPR)
DECARBONIZING CALIFORNIA
Updates on climate news in Los Angeles and California
Tuesday and Wednesday, representatives from the U.S. and China met in Los Angeles for a summit on global climate change (New York Times). U.S. speakers, including Vice President Joe Biden, Governor Jerry Brown, and Titanic director James Cameron, stressed climate change as the "most consequential issue of our time," and Chinese cities demonstrated impressive large sustainability measures. There was international agreement, as Mayor Garcetti succinctly stated, that "cities are on the front line of climate change." The mayor and the governor both demonstrated substantial climate leadership with this summit – it was a valuable opportunity to unify the international and the local, including the establishment of concrete climate targets (Climate Progress). In the wake of this successful meeting of local leaders on an international scale, President Obama has pledged $120 million for clean energy, aiming to transition America to cleaner and more distributed energy sources (New Europe).
The Los Angeles Bike and Pedestrian Count began this week. This data is important for getting accurate information about how Angelenos make use of city streets, which helps out with planning and funding for bike and pedestrian infrastructure (KPCC). There's still time for you to help out; volunteer spots are open for Saturday (LACBC).
The first of several planned Metro bicycle hubs opened this week in El Monte, featuring bike parking, repair clinics, and sales (CBS Local).
One of the producers of Mad Men is leading a group to the Emmys by bike (Hollywood Reporter).
Los Angeles takes a big step in becoming more sustainable with a promise to lease more electric vehicles to the Los Angeles Police Department, Fire Department, and the Department of Water and Power (LA Times).
(Angelenos: local climate events & jobs here)
BEYOND THE GOLDEN STATE
National and international climate news
10 Republicans in the national House of Representatives have signed on to an "environmental stewardship" pledge (NY Times).
New Zealand's Green Party co-leader sets a bold plan to reduce greenhouse gas emissions, aiming to make New Zealand carbon neutral by 2050 (The Guardian).
Quebec proposes ambitious plan to reduce greenhouse gas emissions with a 37.5% target (Global News).
It is now compulsory for climate change and evolution to be taught in Alabama schools (IFL Science).
HOORAH FOR SCIENCE
Breakthroughs and advances worth celebrating
A team of Southern California college students makes a beautiful, innovative, and region-specific sustainable house inspired by the California poppy (KPCC).
The city of Manteca, in the San Joaquin Valley, has announced a plan to use food waste to power garbage trucks. (Manteca Bulletin)
HEAR YE
Words Worth Repeating
ICYMI: @JerryBrownGov message to @RealBenCarson: "#Climatechange is much bigger than partisan politics." pic.twitter.com/qe2Xx9f5gS

— Climate Resolve (@ClimateResolve) September 16, 2015
LOOK HERE Images, videos, and infographics that deserve a close look
With fires raging throughout Northern California (LA Times), increasing study of the effects of climate change on California wildfires is more important than ever. Researchers from UC Davis and UC Irvine, led by Professor Yufang Jin, have just published a study on the future of wildfires in our state. There are many lessons to be learned from this data – it's worth taking a look.
At @RCHStudios #parkingday #parkingdala site pic.twitter.com/v6VKxKOBs6 — StreetsblogLA (@StreetsblogLA) September 18, 2015
Another Park(ing) Day showed how designers have made parking lots into human-friendly spaces around the world.
WEEKEND READING
Online posts, longreads and book suggestions
Do you have Mobility Plan doubters in your life? Christopher Hawthorne's passionate and thorough op-ed in support of the newly-approved city resolution will give you all of the tools you need to show them the error of their ways (LA Times).
There's big news out of Sacramento this week: the California Assembly failed to fully approve two key climate laws.
I say: buck up.
Let's focus on this: We won some incredibly important climate bills this session. The state is now dedicated to supplying a full half of its electricity from renewable power by 2030 — an amazing accomplishment. California continues to be a climate leader.
We also passed three huge climate adaptation bills that will help us better plan and invest so we are prepared for the impacts of climate change. Preparing for the inevitable effects of climate change is necessary. We've already had success in our adaptation efforts; winning cool roof legislation in Los Angeles means we are already cooling our city today and for years to come.
There is a way to wrest away big oil's Cryptmaster hold on California politics. It comes out of Climate Resolve's central theory-of-change, which is to make climate change relevant in people's lives. When everyone understands the impacts of climate change, then the people will demand action.
But first, the autopsy. This past legislative session, green groups, Climate Resolve included, attempted an insider game of leveraging pressure from the Governor and legislative leaders to win the key climate bills. It was a good plan, and certainly worked better than a poke in the eye, but it was not sufficient to thwart big oil's influence.
Looking ahead, we also need an outside game — a grassroots educational effort that makes climate change so urgent that politicians have no choice but to act. But let me also be clear. There are a number of weak-willed members of the California State Assembly who sided with Big Oil this week and not with the people of California. Their lack of fortitude will not be forgotten.
What do Californians think? Polls show a strong desire to act, but also reveal that Californians know shockingly little about climate change, how it impacts their lives today, and what's coming tomorrow. And most folks also fail to make the connection between climate impacts and greenhouse gas emissions (GHGs).
We need people to understand how climate impacts their lives on a fundamental level — to feel climate's breath on their necks. Then efforts to limit GHG stop being a virtue and start being a necessity. Which one of these things do you think politicians can vote against?
Big oil won the latest round because in California, climate change is still viewed as something distant and something you can't do much about. We have to change that.
That's why the three successful climate adaptation bills (SB 379, AB 1482, SB 246) are so important. (Climate Resolve helped lead the coalition that won the bills.) Once signed into law and enacted, these statutes will make climate the subject of many thousands of public meetings across the state. Firemen. Doctors. Nurses. PTAs. City councils. Water districts. All will have to wrestle with, and plan for, our new (hotter) reality.
If only the Assemblymembers had left their air-conditioned comfort zone yesterday. Sacramento was 106° in the shade.
— Jonathan Parfrey
We're excited to announce a partnership with KCET, with the creation of an online portal: Climate Change LA on the KCET website, which features the latest climate research about Southern California and provides Angelenos with everyday ways to act on climate.
"Our work on climate change in Los Angeles and Southern California is guided by climate science and we're excited to share insights and solutions on a fact-based platform that is known and trusted," said our Executive Director Jonathan Parfrey. "We also share a love of Southern California — appreciating what we have and showcasing ways to make it better."
We will provide context around the studies conducted by UCLA and other California university climate scientists, and educate both consumers and businesses about the impacts of climate change. The hub will contain original content, including interviews with local leaders working on climate change solutions.
"KCETLink is proud to unveil CLIMATE CHANGE LA during a time when water issues and our drought crisis is an imperative conversation for Californians," said KCETLink Media Group Senior Vice President, Content Development and Production, Juan Devis. "We plan to frame this important scientific research from Climate Resolve in a way that the public can readily understand and help them navigate through this unprecedented moment in our state and country."
1

...